Fall is upon us, time to start looking forward to mild days and cool nights… Halloween is right around the corner! And there's some spooktacular news to share with our readership!
Kickstarter News!
Our backers will be happy to know that the SpiderForest pins are in! If you went to SPX you got a chance to see them up close and personal! WOO! Additionally, the PDF's are nearly complete and we should be able to fulfill digital backers soon! We want to thank you guys for your patience and we hope to begin fulfillment of some of the rewards by the end of the month.

Anniversaries and Milestones!
XII: of Magic & Muses will be rolling straight into Chapter 4. Willow seems to have garnered some unwanted attention after the events in the nurses office.
October marks I, Mummy's 4 year anniversary; traditionally the linen anniversary. Every mummy's favorite gift. The comic is also about to reach 300 published pages.
Delphina Featured on "The Awesome Podcast!"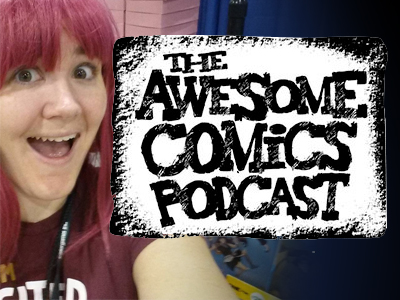 Christina Major of Sombulus was featured on the Awesome Comics Podcast where she talked about webcomics' place in the industry and a little about our collective.

Returns and Hiatuses
Star Cross'd Destiny returns from hiatus with new and explosive updates and continuation of one of the darkest scenes in the series. Cradled on an octave of death, Chapter 10 will be updated weekly, as the battle rages on between the Alphaverse and Betaverse. Additionally, SCD has launched its own Patreon, with exclusive rewards and early releases.
Darwin Comics will be taking a one month hiatus! October's super busy, so she'll be taking a breather to get stuff done and hopefully build a buffer! Updates will consist of concept work, teasers for the upcoming premier of the Michael Webcomic, fan arts and other fillers until comics resume on Nov 2 (TOHS) and Nov 6 (Plague)! Please continue to stop by and give the sites some love, eh?