This month's header image is from Jemma Young of Children of Eldair, featuring Embera growing some spring foliage with her mystic plant powers!
---
Dates to Remember!
---
Two weeks left!
Draw your webcomic character as a kid having fun to be part of our zine benefiting the World Food Program and the Yemen Humanitarian Crisis. But hurry! All art submissions are due March 15!
Templates and submission rules:
spiderforest.com/charityzine
---
Children of Eldair Kickstarter Launches March 28th!
Jemma Young is launching a Kickstarter to get the third book of Children of Eldair printed! Eldair is about a sorcerer named Koe who rescues a girl from demons. While using magic to find her friends, he get trapped in a vision of the past. Now he must witness the past so he can save the future.
Subscribe to Jemma's newsletter here to get notified when it goes live!
Title Unrelated
Kickstarter running now through March 16th!
G Pike is running a Kickstarter to reprint Volume 1 of Title Unrelated, a LGBTQ+ comic about family, friendship, and finding your true self. A trio of siblings befriend a stranger with amnesia, but little do they know they all have ties to a forgotten parallel world.
---
Comic Milestones and News
---
Ingress Adventuring Company's third chapter comes to a close on March 27th and will begin a short break before starting chapter four. Now is the perfect time to catch up on the comic!
Soul to Call has begun its 7th Chapter. Join Avril, James, and Tiffany as they search for a way to rescue Eli from the clutches of the Order. The comic has also resumed biweekly (Monday+Friday) updates!
Fighting Dreamers reaches the 5th anniversary of its launch on March 5th, 2019!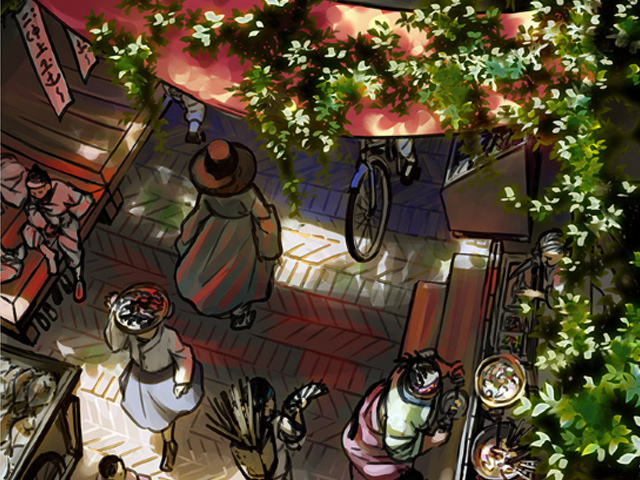 Heart of Keol has started Chapter 27, "Common Knowledge"
XII of Magic and Muses is hitting Chapter 9 on Monday, March 4th! The girls have had some stumbling blocks with their powers but Georgia, Emma and Willow seem to be on their way to cracking open their necklaces' secrets.
TOHS: The Devil's Own begins its third chapter, Proof, on March 7th! Reluctantly Dominic takes Lady Miranda to see Cabal. Though he has doubts about Cabal's culpability in the attack on Damien, proof of his innocence may be hard to come by.
Kickstarter Books Shipping Soon!
Great news, Kickstarter backers! We've received our shipment of our Threads Anthology and will be shipping it out to backers soon. Keep an eye on our Kickstarter page for more info!


Closing the Chapter
Littlelight Asylum
finished its first book! While the team works on the next one, Littlelight will be taking a break until a good enough buffer is done. Guest art will be posted in the meantime!
Gemutations:Plague
began updating twice a week on November 27th and plans to be wrapped up by December 18th! That's right, after eleven years running, Plague will come to its conclusion!
As a way to bridge the gap between the current story and its sequel "Michael", Darwin will be posting a prose special for the holidays "First Christmas!" Join Steve, Tom, Sarah, Maribel, David, and Angelina one more time as the couples spend their first Christmas celebration together!


Buffer Breaks
Arbalest
will be on break for the month of December while Leah bulks up the buffer (and possibly even takes some time off to spend with her wife). The comic will return on January 1, 2018 with a brand new update structure, so stay tuned!
Sombulus
will be changing its schedule to once a week on Tuesdays through the month of December.
Damsels Don't Wear Glasses
will be taking a break throughout December, featuring guest pages from four different artists.
Now on Kickstarter – The SpiderForest Anthology!
The SpiderForest Anthology Kickstarter is running now through July 14! Help bring to life our book of 20 never-before-seen comics and also get enamel spider pins, comic cameos, custom art, and prints!


New Book Releases for July
New Chapters and Milestones
SpiderForest would like to extend a big welcome to our newest members for the Spring 2017 application season! Check out their amazing comics!
Sword-Swinging, Spell-Slinging Fantasy
Space & Unseen Worlds!
Slice of Life (or Death)
The Spiderforest Forums
have a whole new design! Mobile-friendly and available in dark and light styles, our forums are open to everyone, regardless of SpiderForest membership! Thanks to Alyssa for coding the design, and the combined efforts of KEZ, Tiana, Thane, and Kat in getting it all live! Definitely let us know if our spiders didn't quite wrap up all the bugs, will you?
Comic of the Week wraps up the week of December 19th! Our members thank their fellow creators for plugging comics each week to their audiences and all the new readers for taking time to check out the different comics offered!
Sweet New Stories and Merch!
Arbalest will be on vacation for the month of December, returning on January 2. In the meantime, check back for guest art!

The Sundown Boys just finished up Chapter One and will be taking a short break. The chapter two cover will go up on December 18th, and then the first page of chapter two will go up on January 1st, which is when regular updates will resume.
| | | |
| --- | --- | --- |
| | | |
| Soul's Journey's archive will exceed 100 pages in December. | What it Takes reaches 700 story pages, with some major plot reveals! Death's doorstep just got a whole lot closer. | XII: Of Magic and Muses has rolled straight into Chapter 2! |
| | | |
| 6-Commando is back with a new season, a new chapter, and the women and men of the United Nations Multinational Forces Africa are facing their biggest crisis yet: a five thousand ton tank named Victor with nuclear weapons, and a bad attitude. | Panthera is coming out of hiatus and back to a bi-weekly update schedule for the time being. We hope you enjoy the rest of the chapter as the team deal with the revelations of who they have to fight. | Castoff wrapped up its 3rd chapter in November, and is headed straight into chapter 4! The sun rises on a new day for Vector and Arianna, but what awaits them in the coming hours? New dangers? New friends? Maybe both! If you're behind on the story, now is the perfect time to get caught up! |