Spider Forest at Small Press Expo!
That's right! SpiderForest will be attending Small Press Expo on Sept. 19-20! Look for the friendly black and purple booth at the end of the L block (L 8-9) and pick up copies of Altar Girl, Chirault, Precocious, LeyLines, Sombulus, and more! The following creators will be in attendance:
Christopher Paulsen of Precocious
Kata Kane of Altar Girl
Kat Feete of Sunset Grill
Thane of Chirault
Thanks for all the Apps!
Thanks to all those who took the time and braved their fears to apply for membership! This year's application season yielded a record number of candidates and made our choices hard (in a good way!). We should be finalizing our selections within the week! Be on the lookout for contact from the collective soon!
New Spider Forest in Print and Digital!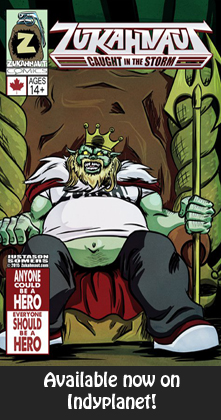 Zukahnaut: Caught in the Storm
By Justason & Somers
ZUKAHNAUT has released a new book! Zukahnaut: Caught in the Storm is a self-contained, stand-alone 52 page comicbook which contains the latest storyarc from ThisComic.Rocks as well as a bonus story exclusive to this collection. Available in print and in PDF!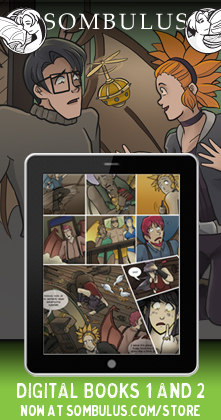 Sombulus Books 1 & 2!
By Christina Major
Add some world-hopping adventure to your digital library by grabbing Sombulus Book 1 or the newly-released Sombulus Book 2 in PDF or CBZ forms at sombulus.com/store!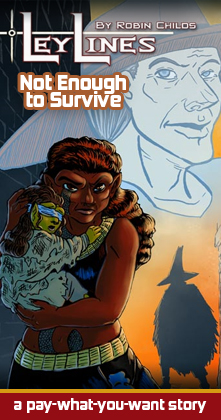 Not Enough to Survive
By Robin Childs
"Not Enough to Survive," a Pay-What-You-Want short story set in the LeyLines world!
Ravazhi the Wanderer became a legend by cheating death, but even legends have to retire someday. Trading excitement for survival, Ravazhi resigns himself to the quiet life of a professor, until a mysterious fortune teller reveals that death is not quite done chasing him and Fate has other plans for his old age.

In Other News!
| | | | |
| --- | --- | --- | --- |
| | | | |
| School Spirit hit 1,600 strips back in late July! Help him celebrate the milestone! | The Sundown Boys is now active on Patreon and have uploaded the first Patreon-exclusive illustration. Sundown Boys Patreon | MoonSlayer has a shiny new layout! With new sections and lore content. 😀 | Altar Girl will be at SPX & Baltimore Comic Con! Hopefully, so will the debut Altar Girl – Book 2! |