No Foolin'! Spring is here! Things are heating up for our very busy story weavers!
Check out all of the awesome projects, milestones, and anniversaries being celebrated in the month of April!
Spring Kickstarters!
Fine Sometimes Rain
is going to be launching a Kickstarter on April 18th to fund the printing of the first graphic novel! The first volume will contain the first seven chapters of this slice of life tale about overcoming depression for a total of 238 pages. It's a really nice slick book that would look great on your comic shelf.
James Nelson of
Monster Lands
has launched a Kickstarter to print physical books for Monster Lands vol.1.
View the Kickstarter
here
Get Your Copy Here!
Christina Major of
Sombulus
will be at
Silicon Valley Comic Con
April 6-8! Stop by her table at Booth 131 and say hello!

Realm of Owls has opened a merch shop! Dive into Owl Basket and find shirts, hoodies, paper art prints and other stuff staring at you while you shop. New designs will hatch into the basket every now and then, so be sure to stare at it intently. (☉v☉)

As you know the YA webcomic
Michael
began back in January. The webcomic was supposed to be in conjunction with the novel's release. Only problem was, the novel wasn't ready…
That has been remedied! And there is now a release date for the book!
Be on the lookout on
Darwin Comics
for "Michael: The Cause" on April 16th, 2018!
It will be available in print and Kindle formats! Contact Darwin in advance if you'd like a signed print copy! (You can click the contact button on any one of her webcomics!)
Anniversaries and Milestones

Arbalest turns 2 years old on April 11th! Help her celebrate the occasion!

Castoff just completed its 5th chapter, and has entered chapter 6! The trio continues their journey to the capital, but find themselves caught up in an unexpected conflict. Will they make it through the mountain pass unscathed? Now's the perfect time to catch up!

Hiatus and Returns

*J-Nelson of Monster Lands will be taking a 6 week hiatus (April 9-May 21) while managing the kickstarter for volume one!
Hiatus + Fan Art Request!
*The Only Half Saga's current story arc Of Dhampirs and Warlocks is slated to come to its conclusion some time in the Summer of 2018.
At that time, Darwin will be placing the title on hiatus with a relaunch date of October 4th, 2018. This is to give her time to plan, revamp the site, and get a good buffer of pages before starting into the newest story arc, "The Devil's Own."
She's calling on all TOHS fans for help filling the months between hiatus and relaunch! If you would like to provide fan art, fan comics, or even fan fictions please contact her through any of her sites!

Here's a big shout out to all of the participants in 2018's Comic of the Week! Thanks for promoting your fellow creators! Also a BIG thank you to all the readers who gave each COTW spotlight a look, a like, and perhaps even a RSS listing! Each and every one of our comic creators appreciate the love – and hope you'll keep coming back!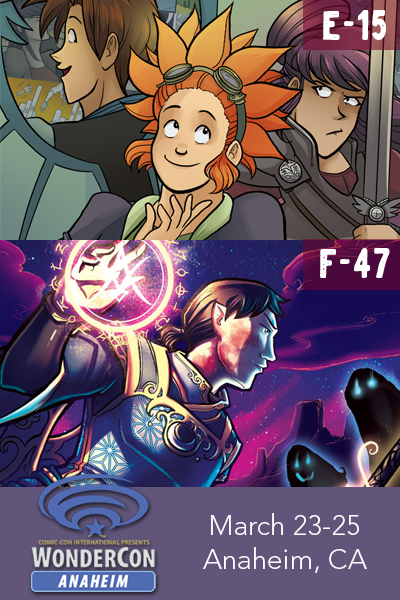 Jemma Young of Children of Eldair and Christina Major of Sombulus will be in the Artist Alley at Wondercon in Anaheim, March 22-25! Be sure to visit them!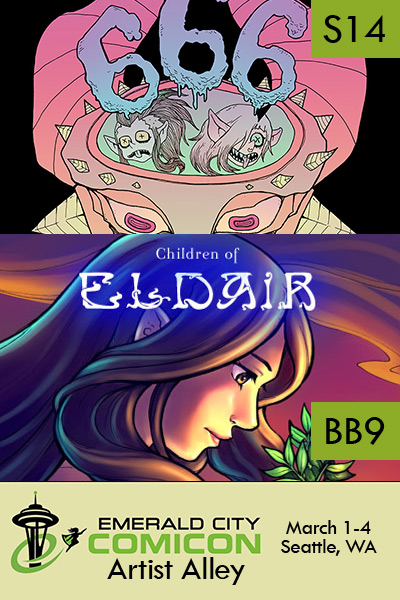 Laura Graves of
666 Bistro
and Jemma Young of
Children of Eldair
will be at Emerald City Comic Con Artist Alley in Seattle, WA March 1st-4th! Laura will be debuting the third chapter to
666 Bistro: Mechadeth Hangar 666
and will be on the Spooky Comics Panel on Friday March 2nd 2018 at 17:15 – 18:15!!
Jemma Young has also launched her second Eldair Kickstarter, which will run till March 26th! You can order both books and one two along with the short side comic "Sorcerer Courtship" during the campaign!

SpiderForest on Kickstarter: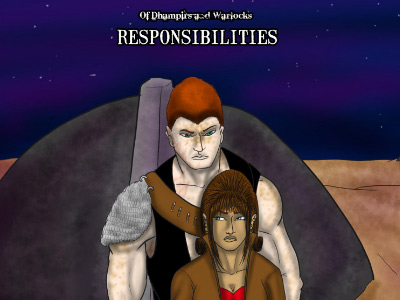 The Only Half Saga's
current chapter "Bittersweet Memories" comes to its conclusion on March 1st. That means the new (and last) chapter of the story arc begins on March 8th! It's time for goodbyes, as Sagira leaves the Mosier Facility and heads out into the world. Garrett begins to wonder is Sagira's just tolerating him long enough to escape her family, before dropping him like a hot rock.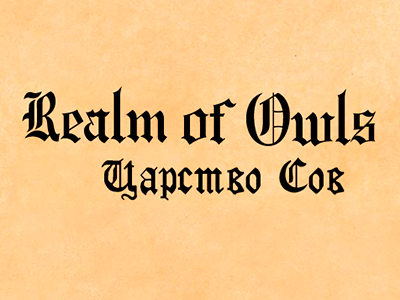 Realm of Owls
is getting a Russian translation! The translated comic is published on
comics.ru
platform and the publication schedule will be daily until it catches up to the original.
The Ferrin will be going on every other Monday updates till May.
Days are getting longer again! The Earth is getting ready for the spring! And our busy tale-weavers are hard at work on many a February Project!
SpiderForest Podcast: Season Two!
That's right! February 6th the SpiderForest Webcomic Collective will be kicking off its second season of podcasts! The podcasts consist of an interview with a well-known creator in the webcomicking world and they are followed up by a panel of Spiderforest Creators talking about their experiences with the subject!
Stay tuned for more information and announcements!
While you're waiting you can catch up on all the current podcasts here, or on our You Tube Channel!
Kickstarter!
Jemma M Young, the creator of Children of Eldair, is launching her newest project "Temerity" with DC artist Chad Hardin. This SciFi comic will go live on Kickstarter on February 21st. You can find out more about her awkward teenage galactic mercenaries at Temerity's Website!.
The Only Half Saga will top 600 pages on February 15th! You're welcome to help Darwin Celebrate in whatever way you see fit! Fanart, poetry, a bottle of champagne? She's willing to accept all!

XII: Of Magic and Muses is having it's second anniversary! Have questions about the comic, or want to know something about the cast? Drop your questions in our comment section at the bottom of a comic page. Or if you have fan art for us kicking around, send us a link so we can help promote you!

SF Creator Projects!

Christina is releasing a new series in the Sombulus Fan Lounge on Patreon! Support her Patreon at the $6+ level and tune in every Monday in February for a new awkward voicemail from Rana.
All the News that's Fit to Print!

Supervillainous ended 2017 having accumulated over 1,000,000 page views.
The world of Supervillainous is about to undergo a major upheaval of the status quo. The Crimson Claw, everyone's favorite fiendish family man, is retiring!

On February 5th, Chirault comes back from hiatus with a series of short epilogue comics to conclude the story! Stay tuned! It's not quite finished yet!

New Year's brings new beginnings, resolutions, and renewal of spirit! Already SpiderForest and its multitude of creators have big plans in store for the coming year! Check out the Happenings!

Comics of the Week 2018!
Let's start the New Year off by promoting our membership and their awesome comics! Beginning January 8th and going through the week of February 26th, Creators and Teams will be promoting other comics in the collective weekly! There will be two to three comics grouped by relative genre or area of interest for you to check out! Stop by your favorite SpiderForest Webcomic or the Spiderforest Home Page for each week's offerings!

SpiderForest Podcasts on YouTube!

The SpiderForest Podcast is now on YouTube! Subscribe to our channel to listen to our first season, and stay tuned for Season Two starting up soon!

Anniversaries!

Soul's Journey is turning 3 on Jan 1st, 2018. Help Sophie celebrate the occasion.
New Webcomic Release!

Darwin's newest webcomic entry Michael will be kicking off January 1st! In her first Teen-Rated Webcomic, we move 16 years into the future of the Gemutations Universe: What would it be like to be a genetically mutated human (gemue) in an all human high school? Michael is about to find out, and he only hopes he survives his Freshman year!

New Year's Returns!

Soul to Call will return from winter break on Monday, January 1st.

Arbalest will return from winter break on January 1, 2018 with a brand new update schedule! Beginning in January, Arbalest will update with ONE PAGE A DAY for the FIRST FIVE DAYS of each month. That's five brand new pages to kick off each month, folks, so keep your eyes on your calendars.

James Nelson's Monster Lands will resume updates on Monday, January 8th.

Sunset Grill will be returning to regular updates beginning January 16th!

Title Unrelated will be returning to regular updates sometime Mid-January! Stay tuned!

Kickstarter Books Shipping Soon!
Great news, Kickstarter backers! We've received our shipment of our Threads Anthology and will be shipping it out to backers soon. Keep an eye on our Kickstarter page for more info!


Closing the Chapter
Littlelight Asylum
finished its first book! While the team works on the next one, Littlelight will be taking a break until a good enough buffer is done. Guest art will be posted in the meantime!
Gemutations:Plague
began updating twice a week on November 27th and plans to be wrapped up by December 18th! That's right, after eleven years running, Plague will come to its conclusion!
As a way to bridge the gap between the current story and its sequel "Michael", Darwin will be posting a prose special for the holidays "First Christmas!" Join Steve, Tom, Sarah, Maribel, David, and Angelina one more time as the couples spend their first Christmas celebration together!


Buffer Breaks
Arbalest
will be on break for the month of December while Leah bulks up the buffer (and possibly even takes some time off to spend with her wife). The comic will return on January 1, 2018 with a brand new update structure, so stay tuned!
Sombulus
will be changing its schedule to once a week on Tuesdays through the month of December.
Damsels Don't Wear Glasses
will be taking a break throughout December, featuring guest pages from four different artists.
Inktober wraps up, thoughts turn to NANOWRIMO, and the holidays are coming. The nights are crisper and the days cooler. Time to curl up with some cocoa in front of a roaring fire, visit with family and friends, and give thanks! It's a busy time of year and for SpiderForest it's no exception!
Milestones and Calls for Guest Art!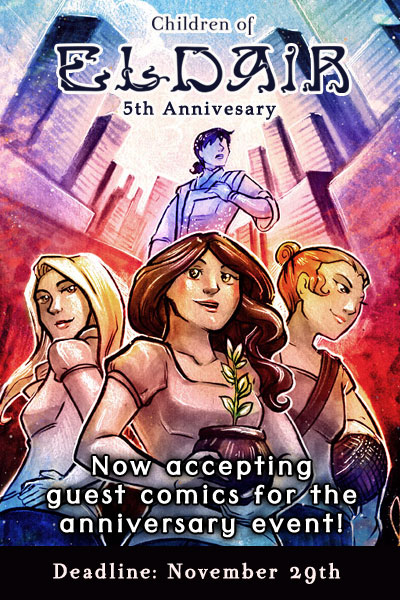 In December, Children of Eldair will be celebrating it's fifth anniversary along with the conclusion of part one! Jemma will be hosting a fan art and comic event the month of December on Eldair.com where she will be featuring artwork and stories from fellow readers and artists! If you want to join in on the fun, submit your Eldair fan comics and art (or even stories) to Jemma at jemmayoung.studios@gmail.com by November 27th and include a one to two sentence bio about yourself along with a link to your social media or website!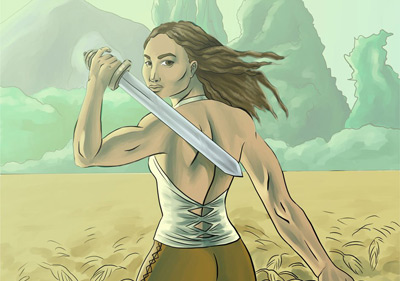 Obscurato Chapter 5 will be coming to a close with 100 pages complete! Catch up on Dionisia's journey before Chapter 6 begins.


---
Following the end of Chapter 9,
The Ferrin
will be going on a hiatus until January 2018. Rather than empty space for that period, Alyssa would like to have guest art for each normal update day, ideally, but having more isn't a problem either! Chat her up on Discord or send it via email at alarainesteele@gmail.com
Conventions and Appearances!
Tistow on Kickstarter this November!


Tistow has been a concept for some time and, with Chapter 1 now soon to be completed and being rolled out on the website, Elli Puukangas has launched a crowdfunding campaign to commit the story to print!
A successful Kickstarter will allow them to print 100 copies of Chapter 1 and any left-over crowns will help print additional copies, push onwards with Chapter 2 and produce additional merchandise including prints and stickers that have shown to be popular with fans.
Translations and Returns!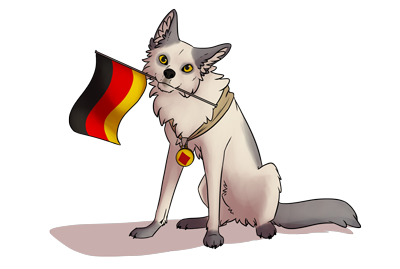 Soul's Journey is gradually being translated into German and now available to read.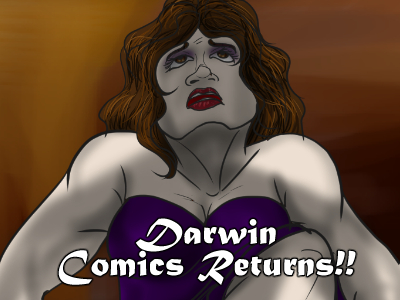 Darwin Comics returns November 2nd, starting with The Only Half Saga! Bittersweet Memories returns! The following Monday (Nov 6th) Plague will roll back into town continuing it's trek towards completion! Thanks for your support and understanding while Darwin got things taken care of behind the scenes!

Fall is upon us, time to start looking forward to mild days and cool nights… Halloween is right around the corner! And there's some spooktacular news to share with our readership!
Kickstarter News!
Our backers will be happy to know that the SpiderForest pins are in! If you went to SPX you got a chance to see them up close and personal! WOO! Additionally, the PDF's are nearly complete and we should be able to fulfill digital backers soon! We want to thank you guys for your patience and we hope to begin fulfillment of some of the rewards by the end of the month.

Anniversaries and Milestones!
XII: of Magic & Muses will be rolling straight into Chapter 4. Willow seems to have garnered some unwanted attention after the events in the nurses office.
October marks I, Mummy's 4 year anniversary; traditionally the linen anniversary. Every mummy's favorite gift. The comic is also about to reach 300 published pages.
Delphina Featured on "The Awesome Podcast!"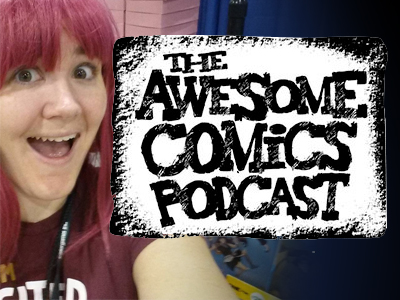 Christina Major of Sombulus was featured on the Awesome Comics Podcast where she talked about webcomics' place in the industry and a little about our collective.

Returns and Hiatuses
Star Cross'd Destiny returns from hiatus with new and explosive updates and continuation of one of the darkest scenes in the series. Cradled on an octave of death, Chapter 10 will be updated weekly, as the battle rages on between the Alphaverse and Betaverse. Additionally, SCD has launched its own Patreon, with exclusive rewards and early releases.
Darwin Comics will be taking a one month hiatus! October's super busy, so she'll be taking a breather to get stuff done and hopefully build a buffer! Updates will consist of concept work, teasers for the upcoming premier of the Michael Webcomic, fan arts and other fillers until comics resume on Nov 2 (TOHS) and Nov 6 (Plague)! Please continue to stop by and give the sites some love, eh?
The competition was intense, the decisions not easy, but the SpiderForest Comic Collective has selected eleven new comics and their creator teams to join the ranks!
We are proud and pleased to introduce the following comics and their creative teams! Help us welcome them by stopping by their comics and giving them a read through!
Obscurato
by Deanna Brigman (creator), Ryan Burst (Letterist), Basia Padlo (Editor)
Hex Lovers
by Teo Acosta
Heart of Keol
by Min "Keiiii" Kwon
The Magpie
by Bones McKay and Ursula Gray
Littlelight Asylum
by Julian Dominguez (Writer), Esther Pimentel (Artist), Toben Racicot (Letterer)
Bonabyl
by Manek D'Silva
Folklore
by Adam Ma and Colin Tan Wei
Children of Eldair
by Jemma M. Young
Tistow: Small Trolls
by Elli Puukangas (inks),
Karoliina Hankonen (colors)

Beneath the Clouds
by Caroline Parkinson


I, Mummy
by Andy Purviance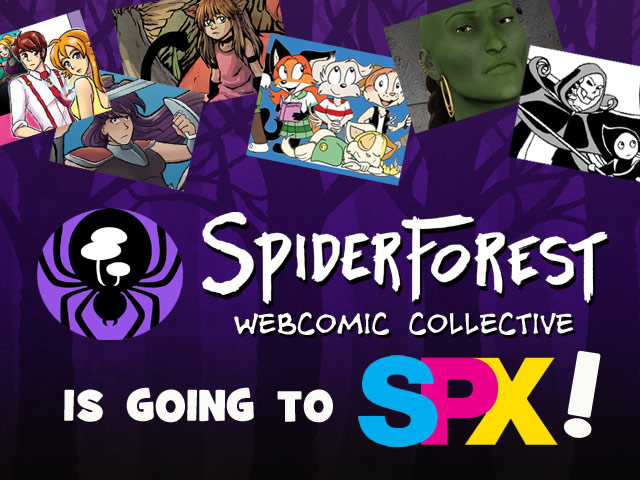 SpiderForest will be tabling at Small Press Expo (SPX) Sept 16-17th! You can find them at table A14. List of exhibitors: Kata Kane, Christopher Paulsen, Matthieu Moyen, Alyssa Alecci, Izzy Ross, Jennifer Zyren Smith.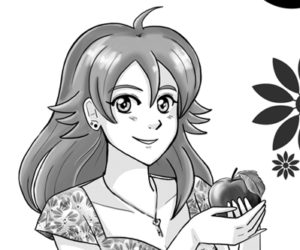 Altar Girl / Kata Kane will be at Baltimore Comic Con Sept 22-24th.
Kata's new book series ANA AND THE COSMIC RACE (Amy Chu / Kata Kane) will be in-stores late September. Order code is JUL172058 so please spread the word and help get the book in to your local comic shops!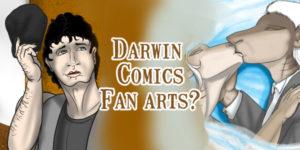 Darwin Comics is going on Hiatus for the month of October! If you're a fan of The Only Half Saga or Gemutations: Plague, Darwin is making an all call for fan arts, short comics, drabbles, or anything else in either universe to help her fill out the gaps! If you're interested in helping, click any contact button on Darwin Comics, Gemutations Plague, or The Only Half Saga! All contributions should be sent to Darwin NLT September 22nd! She thanks you from the bottom of her heart!
Kevin Hayman of Mailbox Rocketship will be at the Memphis Comic Expo in Memphis, Tennessee September 16th and 17th at the Agricenter! He'll be selling prints, original art, and signing/chatting! Tickets available here: TICKETS
Soul to Call will be going on break for the month while Rommie works on the script and rebuilding her buffer. Guest art will be posted in the meantime. The comic will return with Chapter 6 on OCTOBER 2nd!
MoonSlayer returns September 4th! With a new layout, and lots of new content!
New digital content available:
MoonSlayer Sketchbook I -digital-
and… MoonSlayer Sketchbook I -special printed edition- preorder starts this month!
The Spider and the Thorn (short story + extras)
The Cyantian Chronicles just turned 19! Come and see how far it's come and where it's going!
Castoff returns from hiatus on Friday, September 1st!
Lapse has entered Chapter 5!
August Application Season!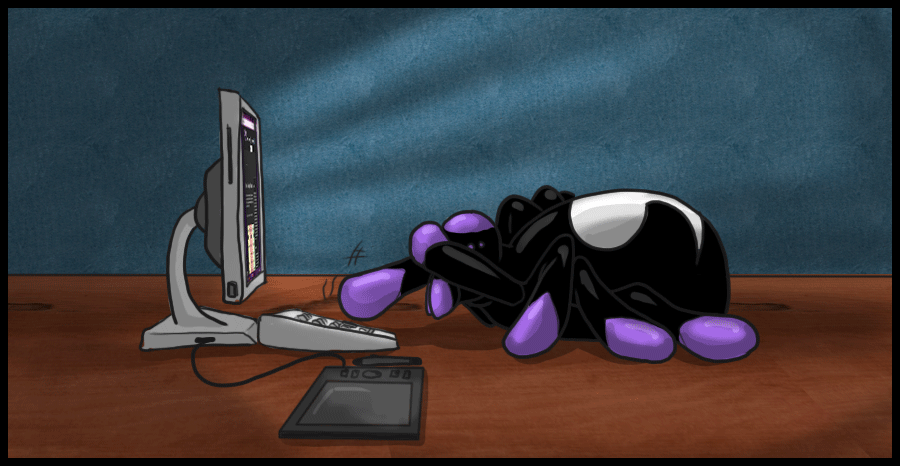 That's right! Application Season is upon us!
Do you have a long form or strip comic? Do you have at least fifteen pages of non-prologue story posted? Are you looking for a supportive community of like minded-creators to share your knowledge and learn? Then your opportunity is here! From now until August 20, 2017, applications are being accepted!
Please be sure you look into the FAQ and read the Apply page before submitting your work for consideration! Good luck to all who apply!
Remember! if you have applied once before you are REQUIRED to solicit critique from the community before applying. Please stop by the Forums and start a thread!

A Huge Thank You!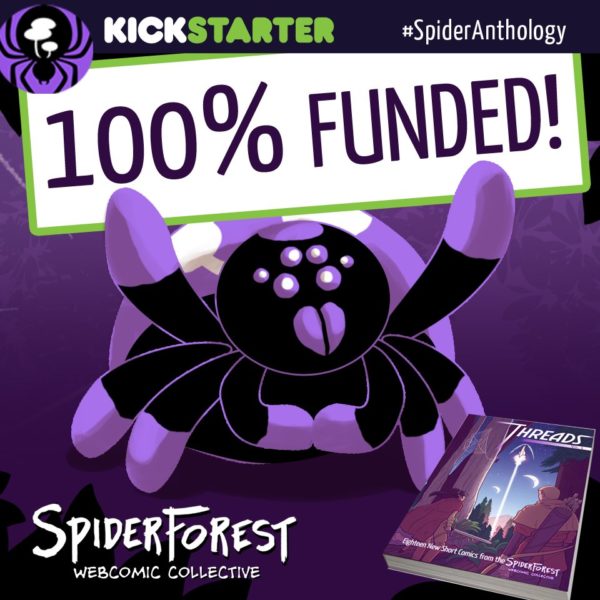 Because of you, our collaborators, supporters, and creators, The SpiderForest Anthology Kickstarter was a huge success!
A hundred and seventy-two backers raised $6,039 dollars and helped reach not only our $5,000 dollar goal, but three stretch goals!
We are working on clearing all the pledges, gathering all of the digital goodies and extra stories together, and have already ordered the enamel pins! We hope to have things set up, printed, and ready to go by the time SPX rolls around!
This would not have been possible without all of you! We truly appreciate your support in making this first Anthology a reality!

The Demon Archives Kickstarter!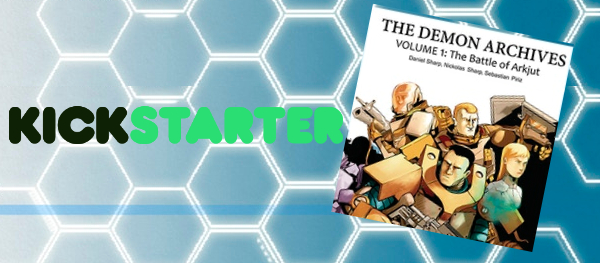 Dan Sharp and Seba are Kickstarting their first volume of The Demon Archives! With lots of goodies and extras up for grabs, take a look and consider backing a stellar post-apocalyptic, science fiction war story!

Convention Appearance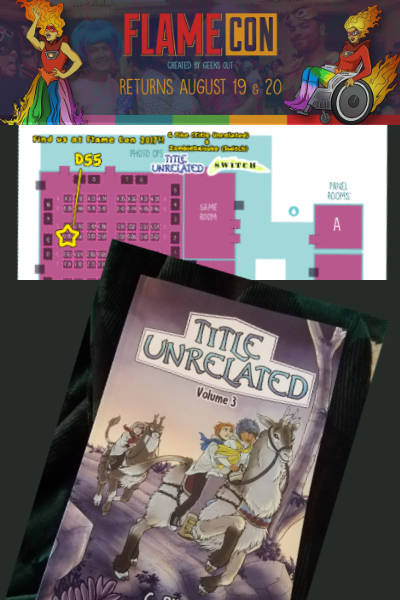 G. Pike, of Title Unrelated will be making an appearance at Flame Con in NYC (New York Marriott at the Brooklyn Bridge) on August 19-20. Stop by booth D55 and say hello!
Comings and Goings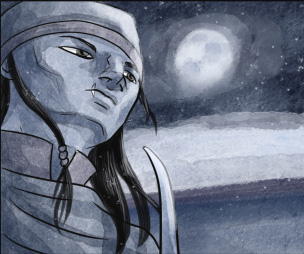 Arbalest returns from hiatus August 7th! What strange happenings are taking place in the town of Arbalest?
Sunset Grill returns on August 1st and is celebrating its 9th Anniversary!
Chronicles of Oro will be on hiatus during the month of August while Julia prepares for Chapter 4! Updates will resume August 29th just in time for the title's 2nd Anniversary!
Cosmic Fish is going to go on month hiatus from August 1st to September 4th.
New Book Releases!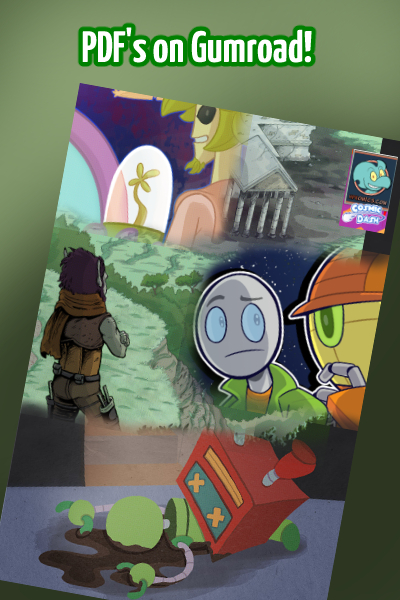 The creator of Cosmic Dash has put together a pack of PDF's for purchase through Gumroad! Check it out!
~~~~~~~~~~~~~~~~
The first installment of the Cosmic Dash's sister-story, Galactic Hub Serreven, has been released as an ebook! It follows the adventures of Angn D'Lazmuh as he starts his job as the administrator of the titular space station.
You can download the ebook directly from Gumroad for $1.99!
~~~~~~~~~~~~~~~~
Additionally, the first volume Cosmic Dash "Silver Spiral Stories" is now for sale. The book features two stories, "Signing Bonus" and "Son of the Soil" in a 106 page ebook for only $2.99. Extras include a timeline and glossary.
You can find the ebook on gumroad
~~~~~~~~~~~~~~~~
The Cosmic Dash collaboration between David Davis and Jamil Gonzalez, of Jasper Gold fame, is finally available. This 53 page ebook features a comic drawn by Jamil and two bonus short stories, one of which is completely new.
Download it on Gumroad for just $2.99!
~~~~~~~~~~~~~~~~
Unrelated to the Cosmic Dash projects, the first volume of a twitter-based, jam comic: RGBots is now available for $2.99. Included in the collection are the released comics comics from the account, unpublished comics, and a four page comic written and illustrated by the creator of Cosmic Dash.
You can download your copy at Gumroad.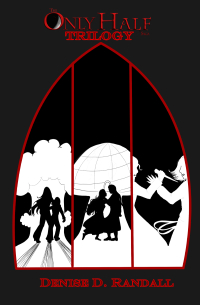 The Only Half Trilogy is live on Amazon! This is an exclusive Kindle Download of the first three Only Half Saga Novels under one cover! This 1,078 page Omnibus includes all new story cover art, special features and a foreword about how The Only Half Saga came to life! At $10.99 on Amazon, now's the time to get all of the current Only Half stories!
No Kindle?
No Problem!
Kindle Apps are Free! (Look for the button below the title image!)
~~~~~~~~~~~~~~
Don't forget that Darwin also has eleven other novels for sale!
You can find her listings on Amazon or her Bookstore! Additionally she has all of the print titles in stock should you want an autographed copy! Bulk discounts are available direct! Contact her via her home page!