GOOOOAAAALLLLL!!!
Our second anthology Threads: A Gallery of Rogues successfully Kickstarted and even reached two stretch goals! Thank you to the 203 backers who made our third Kickstarter the success it is! You guys are awesome! Keep a lookout for updates on fulfillment!
School's out, the weather's warm, people are looking forward to family vacations, and lots of activities to participate in! SpiderForest is no exception! There are lots of things upcoming this month for the Collective! Con Season, a Second Anthology, upcoming application season and MORE! Keep reading for details!
Application Season 2018!
Our next application launches July 10! We're looking for community-focused independent webcomic artists to join our membership. Visit spiderforest.com/apply to learn more about our collective and what we're looking for in a member, and stop by our Discord if you'd like to meet the community or have questions!

SpiderForest Anthology!
Space pirates, royal castle heists, and cheats of all stripes. The second SpiderForest comic anthology, A Gallery of Rogues, launches on Kickstarter June 4, featuring sixteen original stories about rogues! Get your copy at spiderforest.com/kickstarter and let us make your pockets a little lighter!

Con Appearances!
Robin Childs of LeyLines, Christina Major of Sombulus, and GPike of Title Unrelated  will be at Denver Comic Con June 15-17! Stop by and check out their amazing comics!
Additionally GPike will be tabling (#910) at Indy Pop Con (Indianapolis, IN) June 8-10!

Milestones!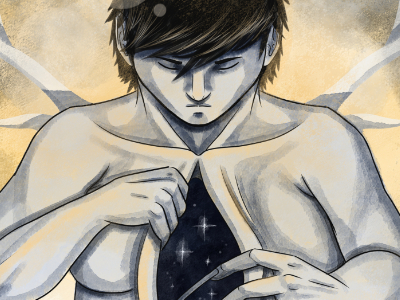 Chapter 5 of Arbalest kicks off on Monday, June 4, along with a return to once-a-week updates. Come back each Monday while we unfold The Beautiful Night Beneath Our Skin.
The current story arc of The Only Half Saga, Of Dhampirs and Warlocks will be drawing to a close by the end of June!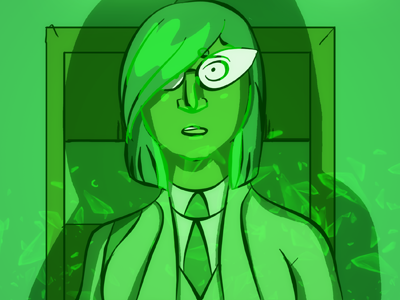 Of Magic and Muses begins it's 6th chapter! If you want to read ahead, Batichi has dropped Chapter 8 on to her Gumroad Store for purchase!

Hiatuses
Soul's Journey will go on a short break after concluding the currently running intermission on June 14th.
The following weeks will feature guest art to tide you over.
Because of their Con commitments in June, GPike's Title Unrelated will be taking a short hiatus for the month! Updates should resume in July! Stay tuned to Title Unrelated for updates!
Due to The Only Half Saga getting ready to wrap up the current story arc "Of Dhampirs" and the hiatus until October, Darwin is hoping that her readers and fans will help fill in the three months before The Devil's Own premiers by contributing some guest art! Contact her through the TOHS website for more information or to drop off art!
Returns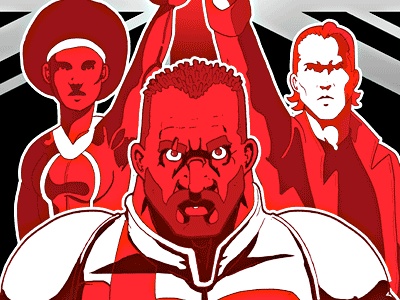 Vanguard is back! Get ready as Issue 15 launches in June.

Kickstarter Books Shipping Soon!
Great news, Kickstarter backers! We've received our shipment of our Threads Anthology and will be shipping it out to backers soon. Keep an eye on our Kickstarter page for more info!


Closing the Chapter
Littlelight Asylum
finished its first book! While the team works on the next one, Littlelight will be taking a break until a good enough buffer is done. Guest art will be posted in the meantime!
Gemutations:Plague
began updating twice a week on November 27th and plans to be wrapped up by December 18th! That's right, after eleven years running, Plague will come to its conclusion!
As a way to bridge the gap between the current story and its sequel "Michael", Darwin will be posting a prose special for the holidays "First Christmas!" Join Steve, Tom, Sarah, Maribel, David, and Angelina one more time as the couples spend their first Christmas celebration together!


Buffer Breaks
Arbalest
will be on break for the month of December while Leah bulks up the buffer (and possibly even takes some time off to spend with her wife). The comic will return on January 1, 2018 with a brand new update structure, so stay tuned!
Sombulus
will be changing its schedule to once a week on Tuesdays through the month of December.
Damsels Don't Wear Glasses
will be taking a break throughout December, featuring guest pages from four different artists.
Inktober wraps up, thoughts turn to NANOWRIMO, and the holidays are coming. The nights are crisper and the days cooler. Time to curl up with some cocoa in front of a roaring fire, visit with family and friends, and give thanks! It's a busy time of year and for SpiderForest it's no exception!
Milestones and Calls for Guest Art!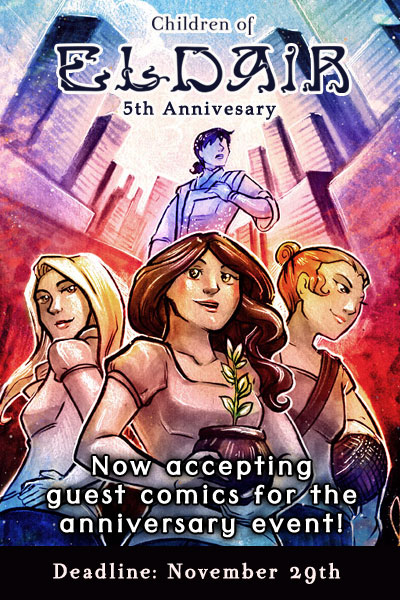 In December, Children of Eldair will be celebrating it's fifth anniversary along with the conclusion of part one! Jemma will be hosting a fan art and comic event the month of December on Eldair.com where she will be featuring artwork and stories from fellow readers and artists! If you want to join in on the fun, submit your Eldair fan comics and art (or even stories) to Jemma at jemmayoung.studios@gmail.com by November 27th and include a one to two sentence bio about yourself along with a link to your social media or website!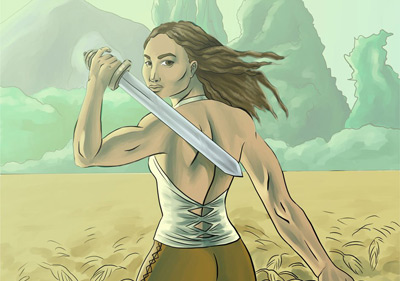 Obscurato Chapter 5 will be coming to a close with 100 pages complete! Catch up on Dionisia's journey before Chapter 6 begins.


---
Following the end of Chapter 9,
The Ferrin
will be going on a hiatus until January 2018. Rather than empty space for that period, Alyssa would like to have guest art for each normal update day, ideally, but having more isn't a problem either! Chat her up on Discord or send it via email at alarainesteele@gmail.com
Conventions and Appearances!
Tistow on Kickstarter this November!


Tistow has been a concept for some time and, with Chapter 1 now soon to be completed and being rolled out on the website, Elli Puukangas has launched a crowdfunding campaign to commit the story to print!
A successful Kickstarter will allow them to print 100 copies of Chapter 1 and any left-over crowns will help print additional copies, push onwards with Chapter 2 and produce additional merchandise including prints and stickers that have shown to be popular with fans.
Translations and Returns!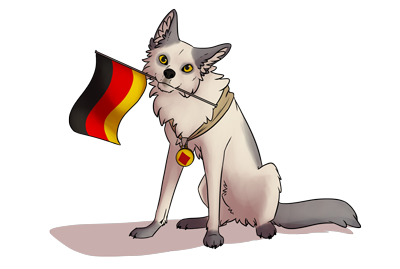 Soul's Journey is gradually being translated into German and now available to read.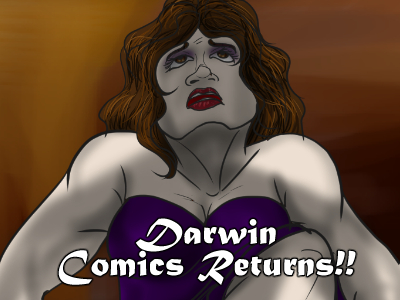 Darwin Comics returns November 2nd, starting with The Only Half Saga! Bittersweet Memories returns! The following Monday (Nov 6th) Plague will roll back into town continuing it's trek towards completion! Thanks for your support and understanding while Darwin got things taken care of behind the scenes!

Fall is upon us, time to start looking forward to mild days and cool nights… Halloween is right around the corner! And there's some spooktacular news to share with our readership!
Kickstarter News!
Our backers will be happy to know that the SpiderForest pins are in! If you went to SPX you got a chance to see them up close and personal! WOO! Additionally, the PDF's are nearly complete and we should be able to fulfill digital backers soon! We want to thank you guys for your patience and we hope to begin fulfillment of some of the rewards by the end of the month.

Anniversaries and Milestones!
XII: of Magic & Muses will be rolling straight into Chapter 4. Willow seems to have garnered some unwanted attention after the events in the nurses office.
October marks I, Mummy's 4 year anniversary; traditionally the linen anniversary. Every mummy's favorite gift. The comic is also about to reach 300 published pages.
Delphina Featured on "The Awesome Podcast!"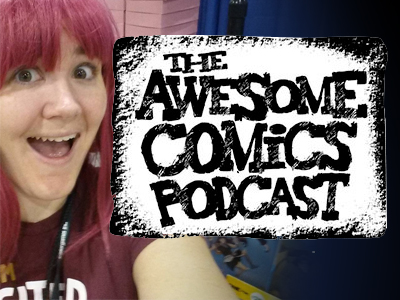 Christina Major of Sombulus was featured on the Awesome Comics Podcast where she talked about webcomics' place in the industry and a little about our collective.

Returns and Hiatuses
Star Cross'd Destiny returns from hiatus with new and explosive updates and continuation of one of the darkest scenes in the series. Cradled on an octave of death, Chapter 10 will be updated weekly, as the battle rages on between the Alphaverse and Betaverse. Additionally, SCD has launched its own Patreon, with exclusive rewards and early releases.
Darwin Comics will be taking a one month hiatus! October's super busy, so she'll be taking a breather to get stuff done and hopefully build a buffer! Updates will consist of concept work, teasers for the upcoming premier of the Michael Webcomic, fan arts and other fillers until comics resume on Nov 2 (TOHS) and Nov 6 (Plague)! Please continue to stop by and give the sites some love, eh?