August Application Season!!
That's right! August is right around the corner and that means it's nearly time for the August application season! So polish up your applications and prepare your site! Be on the lookout for more information here and on our
Facebook
and
Twitter
feeds for more information!
Kickstarters and other Moneymakers
| | |
| --- | --- |
| | |
| Ben, the creator of Derelict, has a Kickstarter for his other comic Sword Interval running now through July 7th! | MoonSlayer has a new store! With new original art and the latest MoonSlayer prints added to the collection! |
Conventions and Appearances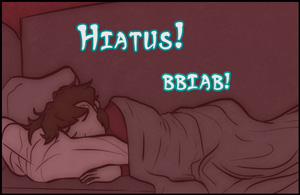 Damsels Don't Wear Glasses has come to its end of chapter hiatus! Red Clause will be taking the time to refresh and rebuild her buffer!
Soul's Journey will be on hiatus until August 11th while Sophie finishes her bachelor thesis. But fear not, there's a contest to fill the hiatus, for more information check the website on July 7th!
Moonslayer will be taking a semi-hiatus in summer. More info here
Retroblade wraps up Chapter 1! There will be a summer hiatus from the main story, lasting until the 26th August, while Freya takes a break and plans for the Retroblade Book 1 Kickstarter and Chapter 2.
Spare Keys for Strange Doors is on break while Lucy tends to her new baby. Look for a special guest story by Lucy Lyall and Tiffany Munro of Stargazer's Gate later this month!
Out of My Element will be going on hiatus while Jim and Alli start work on a new project.
Anniversaries and Milestones